The Mini Car Club of NSW receives invitations or information from various clubs for numerous events which are unable to be included into the clubs main Calendar of events but may be of interest to some Mini Club members for them to attend. These events will not attract club points but are available for members who may wish to take along their historic plated car.
If you are attending with your club plate vehicle please print out the invite or event details and keep in your car for the journey to and from the event. Entry to these events is the responsibility of the individual member to arrange contact with the organiser.
The Mini Car Club of NSW does not accept any responsibility for errors shown herein due to dates and venues changing without the club being notified. Please always confirm the event with the organising club. Photos and articles can not be shared without the permission of the MCC NSW.
COFFEE & CARS EVENTS  are at the bottom of this page
---
 ———————————————————
 2020
Saturday 5th & Sunday 6th December 2020
Canberra Run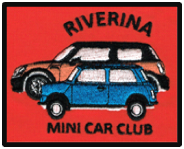 COVID: A quick note on COVID, in Canberra the limit is 200 people outside, no limit at venues, just 20 people per table. We will be social distancing and will have hand sanitiser. If you are coming from a COVID hotspot we ask that you stay at home and join us next time.
Saturday 5th Dec 2020
12:30pm: Welcome BBQ lunch

John Knight Memorial Park (Townsend Place, Off Aikman Drive, Canberra)
Look for the Riverina Mini Car Club Banner
We will be setting up earlier, so if you turn up early come and have a chat

2pm: Observation run

Starting and finishing from the BBQ location at John Knight Memorial Park
The directions will be very clear
The run will take participants to points of interest in Canberra
6:30pm: Dinner

Canberra Labor Club Belconnen (51 Chandler St, Belconnen)
There is no limit to numbers due to COVID, just 20 people per table
Please let us know if you are attending so we can book you a seat at the table
Sunday 6th Dec 2020
8:00am brekkie

John Knight Memorial Park (Townsend Place, Off Aikman Drive, Canberra)
9.15am departure for Terribly British Day (30-minute drive)
10am Terribly British Day
Details below, we need to provide names to the organisers so if you plan to come please RSVP to Scott Yates.
Event coordinator RMCC Canberra Run
Scott Yates      scott_yates@hotmail.com      0424054688
For the interstate visitors we recommend staying at the:
Mercure Belconnen
59 Cameron Ave, Belconnen ACT 2617
Ph: (02) 5104 3000
It is next door to the dinner venue and 5 minutes from John Knight Memorial Park.
Download event details here: RMCC Canberra Run December 2020
Sunday 6th December 2020
ACT Terribly British Day 2020

Queanbeyan Park, Lowe and Campbell street
Entry, Gold coin or better, for Respite Care Home in Queanbeyan"
2020, celebrate the 45th running of this event, this year is a special challenge because of the Covid 19 virus, so we encourage all visitors to abide by and follow the latest State Health rules and guidelines,
Terribly British Day is organised by the Triumph Car Club of the ACT, and is supported by the Council of ACT Motor Clubs.
Our event is supported by the Queanbeyan Palarang Regional Council
Shannons Insurance have been with us for many years and will again be onsite to help with all insurance queries.
Food and drinks will be catered by Rotary Club Queanbeyan and local small businesses.
For further information about Terribly British Day please contact, horstkirchner@grapevine.com.au
OASIS Events
Refer to the Council of Motor Clubs for up to date details
CARS AND COFFEE EVENTS
Central Coast Cars and Coffee
Last Sunday of each month at 9.00 AM – 12.00 PM +
Check Facebook for updates as date is dependent on park availability.
Minis on the Coast meet each month at the Central Coast Cars and Coffee Event (except December)
Mt Penang Event Park, off Kangoo Road, Kariong, behind Worthingtons BMW MINI
From there we will decide on further Mini run destination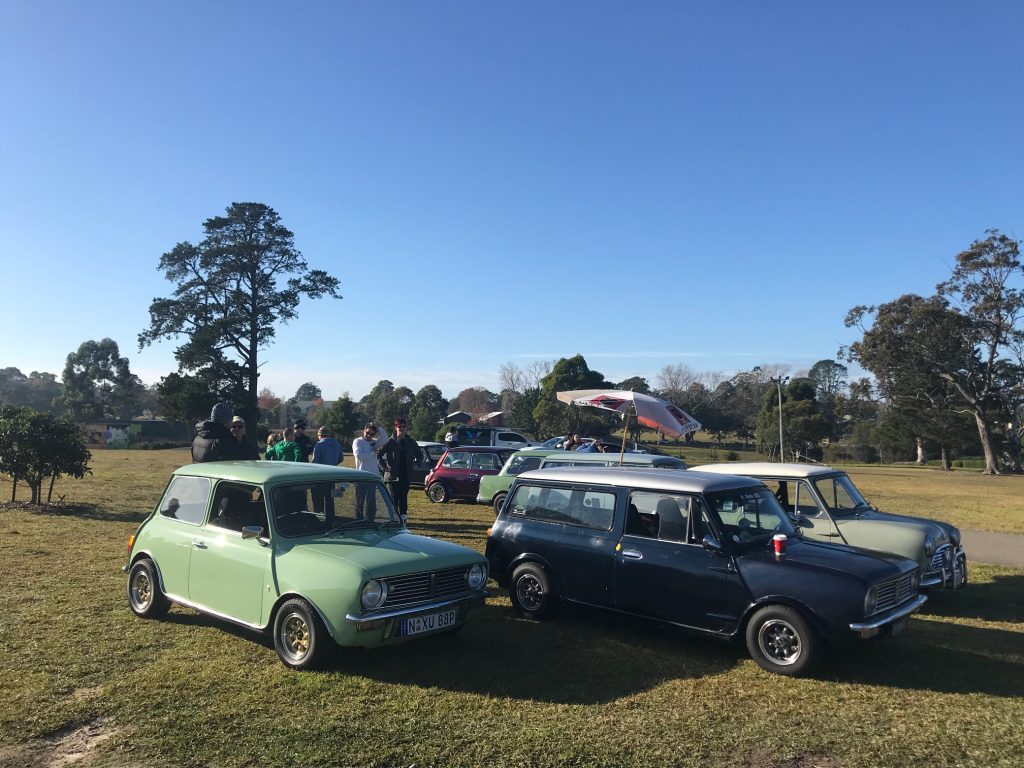 Cars and Coffee – St Ives Showground

First Sunday of every month
Held at the picturesque St Ives Showgrounds, Mona Vale road, St Ives.
Come along and join in interesting, quirky, eye catching and collectible cars of all ages between 8am and11am
There will coffee vans, a scrumptious barbecue as well as other food vans, some trade displays and in time the club hopes to feature low key 'Sunday morning' music to chill out to while enjoying the Sunday morning atmosphere.
For further information contact the North Shore Sporting Car Club

Cars and Coffee link here: Autobrunch
Cars and Coffee- Menai
First Sunday of every second month (Feb, April, June, etc)
Just a gathering of car folk early on a Sunday morning to grab a coffee and chat about our cars!
Menai cars and coffee is now being held on the First Sunday of every second month .Just had the last one last Sunday (Feb 2nd 2020) more info can be found on the menai cars and coffee Facebook page .
Steam Brothers Coffee at Menai Central.
To stay up to date with any upcoming events, like our Facebook page. "cars and coffee menai"
Would love to have more minis!
First Kollector Weekends Event
To be held at Next Door by Schibello                                                
19 Leeds St, Rhodes, NSW, 2138, Australia
We are excited to announce the first (of many) cars, coffee and catch-ups for 2020
This Saturday 13th and Sunday 14th June 2020
8am – 3pm both days.
Our friends at Schibello Coffee have warmly invited us into their space to host our event, head over to their page to check out the goods! Next-Door-by-Schibello
There will be Kollector cars, great coffee, tasty foods, Kollector merchandise, and of course we want to hear all about what you have been up to this year!
Parking is plentiful -on site, on the streets around the venue, and a huge free parking lot at the end of the street.
We will have hand sanitiser available, and encourage everyone to maintain good hygiene and safe social distancing protocols, as we will be also.
More details on their Facebook page:  Kollectorcars
Cruise & Dine Night
Second Saturday of each Month –
Hungry Jacks Sylvania
Cnr. Box Rd and Port Hacking Road
A casual meet & greet for hot rod & custom car enthusiasts, from 5:30pm.
Bosscraft Cars N Coffee – Picton
First Saturday of the month
Not sure if this event is still on??. Please contact the organisers before attending. (Search- bosscraft cars n coffee on Facebook)
The event runs from 6.30am till about 9am. Tea/Coffee and bacon and egg rolls are available, to sort any hunger issues
The event is typically held at 10 Bollard Place, Picton, NSW, 2571. It's open to all types of vehicles (bikes, cars, trucks etc) and we'd love to continue seeing the diverse range that continues to show up.
In the event that it's a wet weather day, or the location is changed, we'll post info on this page and also the new 'Cars N Coffee' Facebook page, indicating whether or not it's still on, so watch that space, for details.
Phone 02 4677 2282 or email www.bosskraft.com for more information.
Please note that all convoys may not be published in the Clubs East West magazine and if you would like to participate please refer to updates on our web page www.miniclub.com.au or our face book page to get the latest convoy details. All events published on this website or Facebook page are eligible for Mini Car Club historic or modified club plated cars to attend without requiring and entry in your logbook.. Please ensure you have a copy of the event details with you in the car.