EVENT CALENDAR
The Mini Car Club of NSW does not accept any responsibility for errors shown herein due to dates and venues changing without the club being notified. Please always confirm the event with the organising club. Photos and articles can not be shared without the permission of the MCC NSW.
2021
Please Note: Due to the current NSW Government required covid lockdown, ALL events are postponed or cancelled until further notice.
Minis DownUnder 2021 
New Date Sunday 21st November 2021
Before attending any event please refer to this website or our Facebook page for updates on meetings in 2021 as locations and times may change due to the changes to Covid restrictions.
---
Sunday 17th October 2021
All British Day 40th Anniversary
Kings School, Parramatta
CANCELLED TILL 2022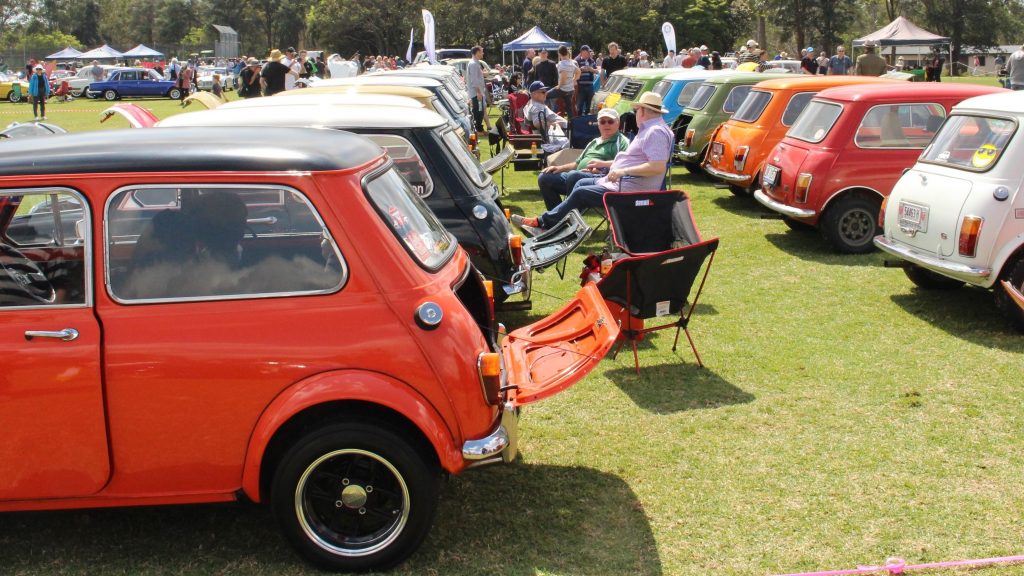 Sunday 24 Oct 2021
2021 Sydney Classic Bicycle Show
Lidcombe Oval from 9am.
The show has been running since 2013. You can check us out on our Facebook page, Sydney Classic Bicycle Show, our Youtube videos or our current webpage on http://neocycling.org.au/classic/
We expect a minimum of about 1,500 people over the course of the day. We invite you to set up a car concourse display at the show.
Save the date
Saturday 21st & Sunday 22nd August 2021
Rylstone Classic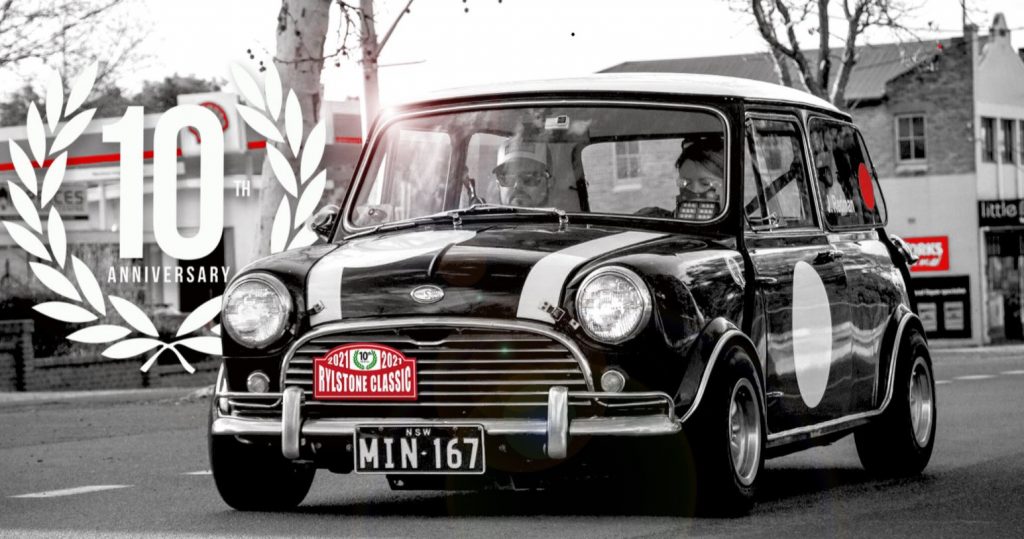 This FREE 2 day event is for Mini owners and enthusiasts with other classic vehicles accepted upon application. The 2021 Rylstone Classic, to be held August 21,22, encompasses a range of novelty activities and will be conducted at a leisurely pace, befitting the vintage of our vehicles. With an overnight stay in wine country, the Rylstone Classic has grown over the past ten years to become one of Australia's marquee events for Mini enthusiasts, with numbers growing year on year. The Central Coast starting point is the Mingara Recreation Club at Tumbi Umbi. Fill in the Online entry form and find your accommodation. Register and keep up to date here:
http://www.rylstoneclassic.com/
or on the Facebook page:
The Rylstone Classic
Gus Staunton Points
Sunday 14th November 2021
Wings over Illawarra
Mini Car Club of NSW, will be attending "Wings over Illawarra" on Sunday 14th November, and invites "Mini's in the Gong" members to join us to be in one large group.
Australia's best annual air-show returns Saturday 13th and Sunday 14th November 2021, make sure you put the dates in your diaries and be sure to join us for an aviation extravaganza!
2021 is also the centenary year for the Royal Australian Air Force and Wings Over Illawarra 2021 will be celebrating that milestone with the Australian Defence Force, and we are looking forward to presenting a magnificent flying display to mark the occasion.
Along with a flying display second to none, Wings Over Illawarra 2021 will also feature some great new attractions.
As a special thank you for those displaying cars, drivers of participating vehicles will be issued with a complimentary entry ticket and admitted at no charge.
To obtain a complimentary ticket for the driver, you will need to follow the instructions on the "Wings over Illawarra" website, and register your vehicle, under the "Get Involved" box 
https://wingsoverillawarra.com.au/get-involved/classic-vehicle-registration/
When you "Register Your Vehicle" in the area "Club Member of", use the drop down box, and select "Mini Car Club of NSW" as the club you are attending with.
Before registering please ensure you are able to attend for the full duration of the show, as the vehicle access gates will be closed at 8:30am and will NOT be re-opened until the conclusion of the air display at approximately 5.00pm.
For more information and to confirm you will be attending please contact Michael Benton 0411019112 or Phil Boye 0429-671649.
Gus Staunton points
Saturday 20th November 2021
Minis DownUnder 2021 60th Anniversary Dinner
Join the MDU 2021 entrants and guests for the 60th anniversary celebration dinner at Rosehill Bowling Club from 7pm. (You don't need to be an entrant in MDU to attend)
Book now for a 2-course dinner @ $45 per person which will require a pre-payment.
Bookings are only available via our online RSVP form and PayPal payment link on the Mini Car Club's website.
Saturday 20th November & Sunday 21st November
Minis DownUnder 2021
Setup on Saturday 20th
Show N Shine on Sunday 21st 
The pavilion is now Full!
Thanks to over 135 people who have entered almost 150 Minis to help make this event the biggest collection of Minis in the one room in Sydney for over a decade. There may be bigger gatherings of minis in Australia, but not on display in a high-profile venue.  Entries received now that the pavilion is full will have their names added to a wait list in case anyone cancels their entry.
We do continue to encourage registrations of interest but will not take any more prepayments unless there are cancellations. All additional entries will be offered free parking in the "Mini Only Parking area" directly out the front of the pavilion.
Hope to see all mini enthusiasts and friends there!
or contact Michael 0411019112
Gus Staunton points
Other Events of Interest
2021 events
Minis in the Gong Runs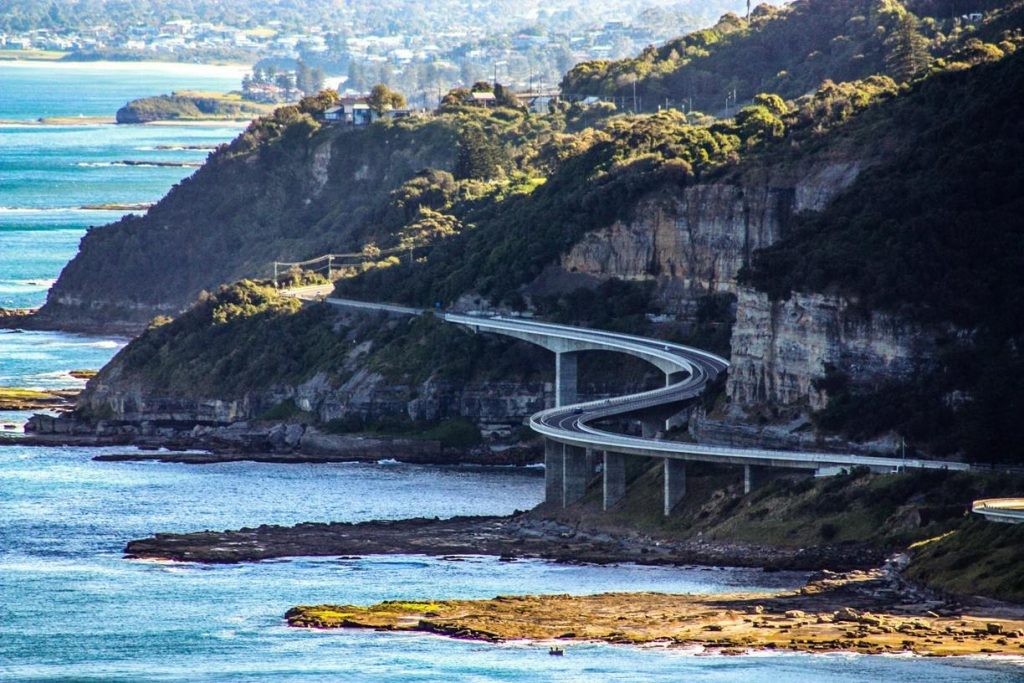 Events are cautiously recommencing from 12th June 2020
If you own a Mini or a Mini Variant, or a BMW MINI you will be more than welcome to accompany any of our events. You don't have to be in the Gong to join in. We regularly see ACT, Sydney & Southern Highlands cars. There are no membership or joining fees as MITG is this website, and that is all it is.
Start: Key Batteries, Crn Mt Keira Rd & Abercrombie St
For more information and to find out details of the next event  www.minisinthegong.com.au
May                 22/23 Weekend away (see separate discussion)
June               20th Short Run – Appin
July                 18th July – Macquarie pass run to Mittagong. (join Mini Car Club convoy)
August           1st Long Run Winter Classic Nat Pk./Maianbar
September     26
th Long Run Wollondilly
October          24th Short Run – Nat Pk, Darks Forest
November      21st "B" Run
IMPORTANT: Due to a variety of circumstances e.g. poor weather, road closures, time, lack of numbers or vehicle breakdowns, we may need to change or cancel a planned route or meeting point at the last minute. On these occasions we will try to post in the forum and/or on Facebook, however this is not always possible.
Therefore if you DO intend to meet us along the route somewhere, please let us know by making a post in the General Forum or on Facebook. This way we can try and let you know if there is a last minute change to plans.
Please note that all Minis in the Gong events are now on our Gus Staunton Points.
Mini Car Club members please remember to sign the attendance sheet.
---
Sydney Minis Monthly Meet Up!
Second Wednesday of the Month (SWOM)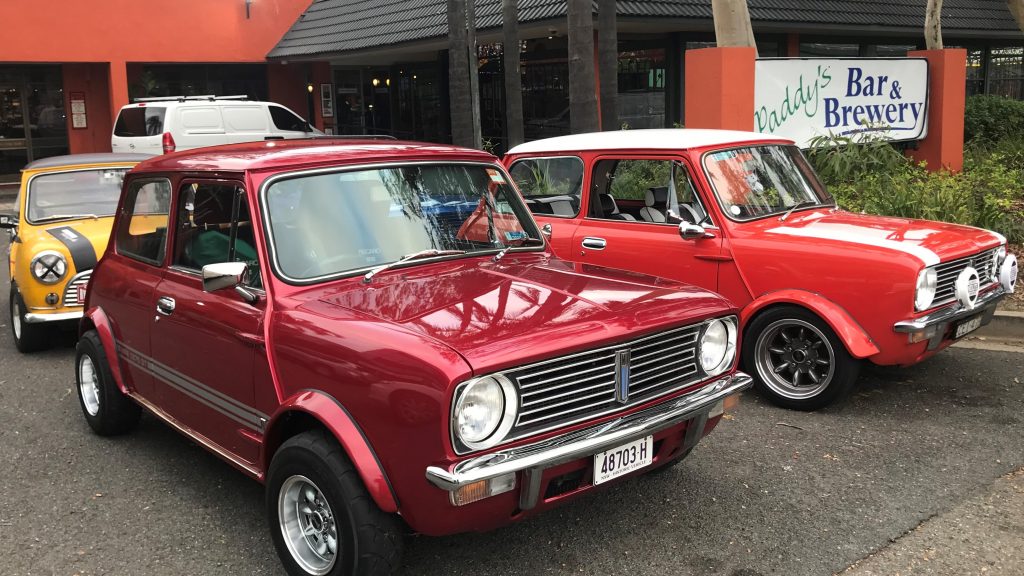 Paddy's Brewery 268 Parramatta Road, Flemington We meet on the Second Wednesday of each Month at 7:30pm for a light meal and the people who attend then decide on the destination for a short cruise and photo opportunity. There is plenty of parking available within view of the bistro courtyard. Keep up to date via the website www.sydneyMinis.com or Facebook page
---
Last Sunday of the Month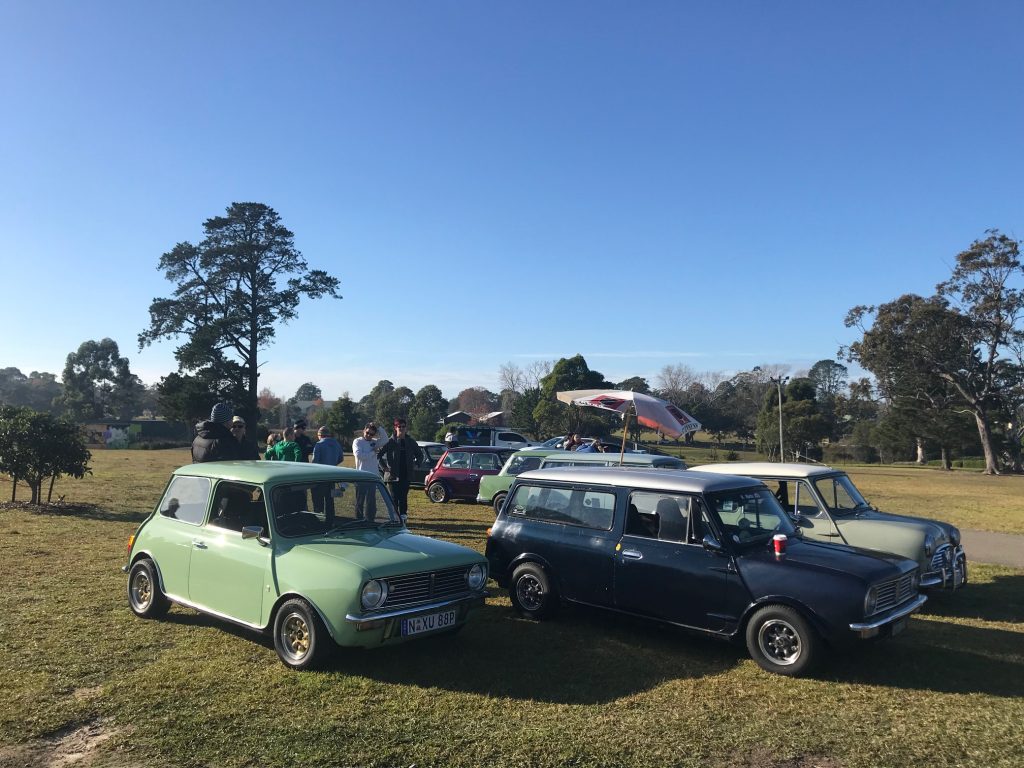 Minis on the Coast – Monthly cruises
Minis on The Coast is a social car group for Mini owners and Mini fans based on the NSW Central Coast.
The group meets on the last Sunday of each month at Cars and Coffee Kariong NSW Central Coast. 9am to 12 noon
KEEP AN EYE ON THEIR FACEBOOK PAGE FOR UPDATES
Due to the last Sunday of every month Cars and Coffee Kariong, Central Coast events being cancelled until further notice.
Minis on the Coast are now organising events on an ad hoc basis so please refer to their Facebook page "Minis on the Coast" for all the latest events and updates
All Mini owners and fans of Minis are welcome to attend any event. Event details are found on our web page or facebook page.
Mt Penang Event Park, off Kangoo Road, Kariong, Behind Worthingtons BMW MINI From there we will decide on further Mini run destination
For more details call David Hemsley on 0403 913 840
Minis on the Coast mid week meet up
Events have recommenced from 10th June 2020
Minis on the Coast are meeting up on the third Wednesday of the month from 6pm at Eat St Cafe on the Gosford waterfront. Eat and drink and talk about all things mini.
To check the latest event details for Minis on the Coast please click Here.
https://minisonthecoast.com.au/
Meet each month at the Central Coast Cars and Coffee Event (except December)
---
1st Sunday of the month
Auto Brunch St Ives showground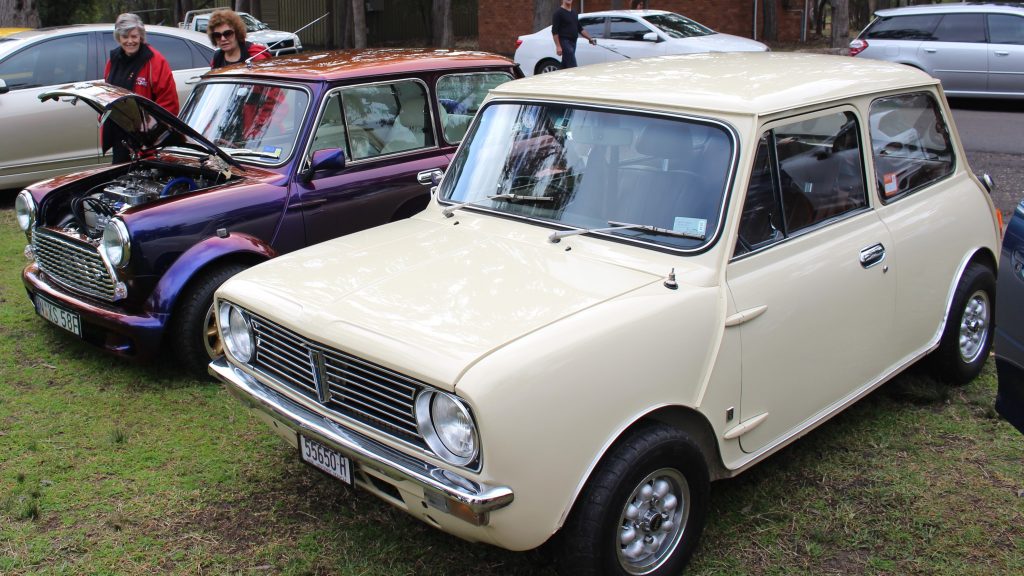 Held at the picturesque St Ives Showgrounds, Mona Vale road, Auto Brunch is resuming on Sunday 4th October Updates are on their Facebook page, Auto Brunch NSSCC
For further information and update please contact the North Shore Sporting Car Club
Last Sunday of the month
Cars and Coffee at Bradman Oval, Bowral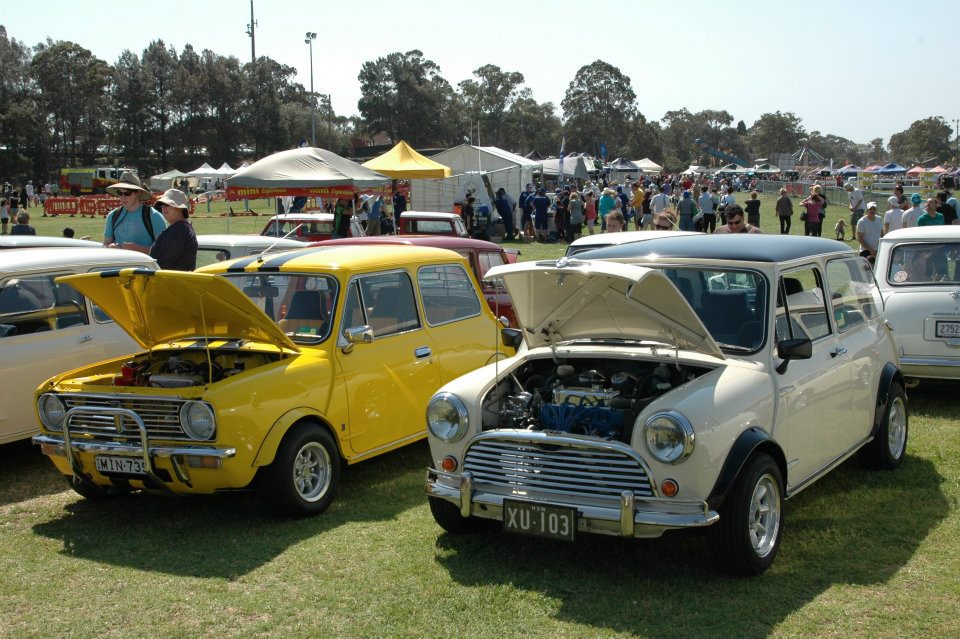 Roll up and check out the array of classic and vintage cars on display at Bradman Oval, St Jude Street Bowral.. Hot Rods, classics, vintage, veteran , sports cars and more! 8am - 11am every last Sunday of the month Amenities available at Bradman Centre // heaps of free street parking // & grab your brekkie and hot drinks from Bradman Cafe! Everyone is welcome, whether you bring your own classic car or just want to chat to fellow enthusiasts! Contact Grant Freeman ph 0422538539
---
Cruise & Dine Night
Second Saturday of each Month –
Hungry Jacks Sylvania
Cnr. Box Rd and Port Hacking Road
A casual meet & greet for hot rod & custom car enthusiasts, from 5:30pm.
          Please note that all convoys may not be published in the Clubs East West magazine and if you would like to participate please refer to updates on our web page www.miniclub.com.au or our face book page to get the latest convoy details. It is important to check for additional events or updated details on our web page or contact the event organiser prior to attending. All events published on this website or Facebook page are eligible for Mini Car Club historic or modified club plated cars to attend without requiring and entry in your logbook.. Please ensure you have a copy of the event details with you in the car.
With current COVID limitations on group sizes you must RSVP before attending any meeting or event

.

Due to the easing of  COVID-19  Government restrictions the Mini Car Club committee is cautiously recommencing social events for our club members.

These events will be limited to outside locations and members must comply with the current social distancing rules. Our regular Committee and General meetings have recommenced at our new home, The Strathfield Golf Club. Please stay home if you feel unwell

Please keep up to date on any changes to our club's events by contacting the organiser or referring to our website of Facebook page.