EVENT CALENDAR
The Mini Car Club of NSW does not accept any responsibility for errors shown herein due to dates and venues changing without the club being notified. Please always confirm the event with the organising club. Photos and articles can not be shared without the permission of the MCC NSW.
2020
Due to the easing of  COVID-19  Government restrictions the Mini Car Club committee is cautiously recommencing social events for our club members.
These events will be limited to outside locations and members must comply with the current social distancing rules.
At this stage All meetings are still cancelled until further notice.
Please stay home if you feel unwell
Please keep up to date on any changes to our club's events by contacting the organiser or referring to our website of Facebook page.
From this Friday, 23 October:
30 people can gather outdoors in public spaces (previously this was 20)
30 customers per booking, and 30 customers per table at hospitality venues (previously the rule was a maximum of 10)
in addition, as of last Friday 16 October 2020, corporate functions of up to 300 people can now be held at any appropriate premises, including at restaurants, subject to a COVID-Safe plan (previously just function centres).
Additionally, from 1 December 2020, the number of people who can attend weddings will be lifted to 300 people subject to the four square metre rule indoors and two square metre rule outdoors.
This will allow people to make plans and book venues knowing the capacity ahead of time.
Businesses wishing to take advantage of the relaxed restrictions must use electronic methods, like QR codes, to record and keep contact details.
Tuesday, 27th October 2020
Competition meeting
Please refer to updates on the website or Facebook page
Saturday 31st October
Track day at the Marulan/Pheasant Wood Circuit
Christian Autosports Club (CACA) are having a track day at the Marulan/Pheasant Wood Circuit on Saturday, 31 October and have extended an invitation to any MCC members who may wish to participate.
Cost is $150.00 per driver (adults and juniors).
Interested members should contact Les Oliver from CACA on 0439 971 734.
1st November 2020
Nirimba State Motorkhana –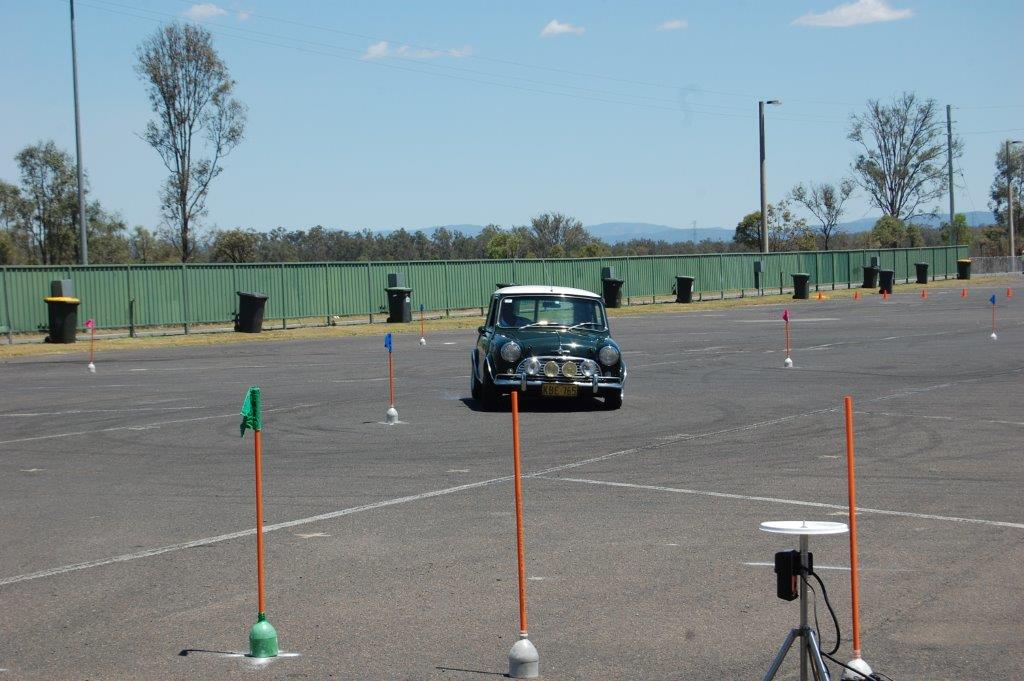 Organised by Mini Car Club

.

We need a minimum of 6 officials (2 per test).

Clerk of Course – Phil Boyd, Secretary – Joan Vaughan.

Bitumen surface.

Tests to be selected.

Timing equipment to be organised with Andrew Collier.
This event is being conducted under Covid-19 safety conditions which means that:
Under the public heath order relating to the current Covid-19 Virus Competitors, Officials and everyone who will be attending on the day must forward their name and contact phone number to the Secretary, Joan Vaughan at
joan.vaughan@optusnet.com.au by 8pm on the 28th October 2020
If your name is not on the list at the 'point of entry' on the day you will not be admitted.
Please download and fill in the Forms below.
(a) No documentation checks / sign on will be conducted on the day.
All documents will need to be downloaded by the entrant  and the relevant forms are to be completed, signed and then emailed to the Event Secretary before the closing date.
Please fill out these forms and return to the Event Secretary
(b) There will be no vehicle safety checks before competition starts.
All entrants need to perform a Self-Scrutiny Vehicle Check using this form: Self Scrutiny
Please fill out this form, sign and return to the Event Secretary
(c) The Drivers Briefing will be conducted as per the Supplementary Regs.
Please click on the following links to download each document:
2020 STATE MOTORKHANA Covid-19 rules
2020 STATE KHANA Supp.Regs2 PB (002) (005) (002)
MCC Covid-19 Event and Venue Plan - State Motorkhana - 1 November 2020
Entries will be accepted in order of receipt.
The entry fee is: $75, Juniors $35.
For payment  by credit or debit card please contact Joan Vaughan 9153 7635
For Direct Debit.
National Australia Bank
Mini Car Club of NSW
BSB: 082 112
Account: 50916 1229
Reference: Surname  "Khana"
Entries will close on  Wednesday 28th October 2020.
Mini Car Club Motorkhana and Club point-scores
Tuesday, 3rd November 2020
Committee meeting
Held via Tele-conference
Friday, 6th November 2020
General meeting
Currently Cancelled
Please refer to updates on the website or Facebook page
Sunday 8th November 2020
Wings Over Illawarra -
Cancelled
New date in November 2021
After consultation with NSW Health, the organisers of Wings Over Illawarra 2020, Mark and Kerry Bright, have made the heart-breaking decision to cancel the 2020 event which was due to take place in November 2020.
Originally set for May 2020, Wings Over Illawarra was postponed to November in the hope the current COVID-19 situation would have eased sufficiently for the event to take place.  Unfortunately, this is not the case.
"We are now forging ahead with Wings Over Illawarra 2021 and have set the dates for the 13th and 14th November 2021 with a STEM day planned for the 12th November 2021.  Having the event in May 2021 was considered, but we did not want to find ourselves in the same situation again with the pandemic not completely under control."
All tickets that have already been purchased for the 2020 event will be re-issued in the coming weeks with the new dates for the 2021 event. 
Due to our current financial position refunds will not be available at this time.
We apologise for any inconvenience and ask our ticket holders for their patience during these unprecedented times.
Saturday 14th November 2020
Blue Mountains cruise & Dinner
This event is currently limited to a group of 30 people due to latest Government Covid restrictions.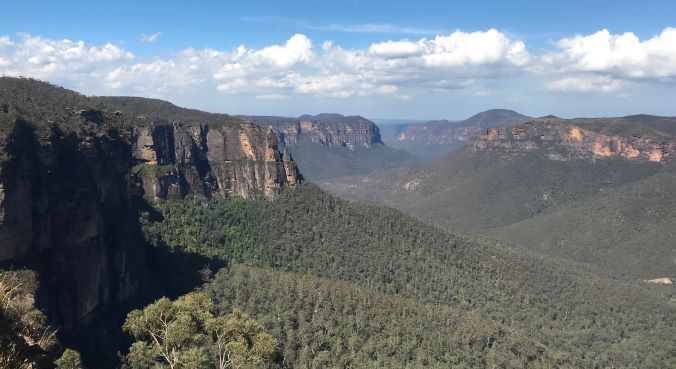 Saturday afternoon drive to the Blue Mountains via Bells Line of Road returning via the Great Western Highway for a meal at the Royal Cricketers Arms, 385 Reservoir Road, Prospect.
Meet at McDonalds, Marsden Park 12 noon for a 12:30pm departure. We will travel west to Richmond then the Bells Line of Road to Bell. A few stops along the way at local tourist attractions before returning to Sydney via the Great Western highway and M4 to Reservoir road where we veer left near the Caltex and follow the signs turning right onto Reservoir road and proceed to arrive at the final destination of the Royal Cricketers Arms hotel at approx. 5:30 - 6pm for drinks and dinner.
Please note: I have pre booked a table on the front balcony and will require members to RSVP by Wednesday 11th October so I can confirm the booking and numbers with the Cricketers Arms Hotel.
For more information and to confirm you will be attending please contact Michael Benton 0411019112.
Gus Staunton Points
Saturday 5th and Sunday 6th December
Canberra Run
and
Terribly British Day
Refer to Events of Interest for details
Saturday 12th December 2020
SMSP Skidpan Motorkhana –
To be held on the (wet) skidpan at Sydney Motor Sport Park.
Multiclub event, organised by Christian Autosports Club (CACA).
At this stage the event is going ahead. Invitation is confirmed.
Competitors must pre-enter through the CAMS On-Line Entry System.
Supplementary Regulations to be obtained and publicised.
On Motorkhana and Gus Club point-scores.
Sunday 13th December 2020
MCC Christmas Picnic
Mini Car Club Christmas Picnic and Annual Club Plate Inspection Day,
TBA
REMEMBER ALL CLUB PLATED CARS ARE ASKED TO ATTEND FOR THEIR ANNUAL ELIGIBILITY INSPECTION
For more information and to confirm you will be attending please contact Michael Benton 0411 019 112.
Gus Staunton Points
Other Events of Interest
2020 events
Minis in the Gong Runs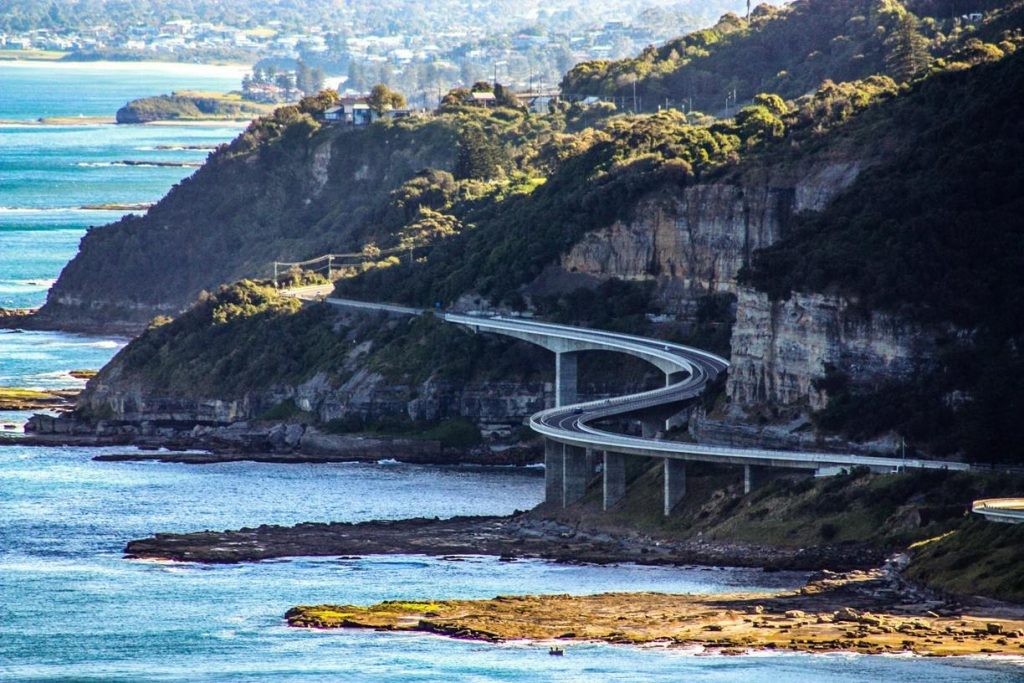 Events are cautiously recommencing from 12th June 2020
If you own a Mini or a Mini Variant, or a BMW MINI you will be more than welcome to accompany any of our events. You don't have to be in the Gong to join in. We regularly see ACT, Sydney & Southern Highlands cars. There are no membership or joining fees as MITG is this website, and that is all it is.
Start: Key Batteries, Crn Mt Keira Rd & Abercrombie St
For more information and to find out details of the next event  www.minisinthegong.com.au
IMPORTANT: Due to a variety of circumstances e.g. poor weather, road closures, time, lack of numbers or vehicle breakdowns, we may need to change or cancel a planned route or meeting point at the last minute. On these occasions we will try to post in the forum and/or on Facebook, however this is not always possible.
Therefore if you DO intend to meet us along the route somewhere, please let us know by making a post in the General Forum or on Facebook. This way we can try and let you know if there is a last minute change to plans.
Contact Phill Boye 0429 671 649
Please note that all Minis in the Gong events are now on our Gus Staunton Points.
Mini Car Club members please remember to sign the attendance sheet.
---
Sydney Minis Monthly Meet Up!
Events have recommenced from 10th June 2020
Second Wednesday of the Month (SWOM)
Sydney Minis Monthly Meet Up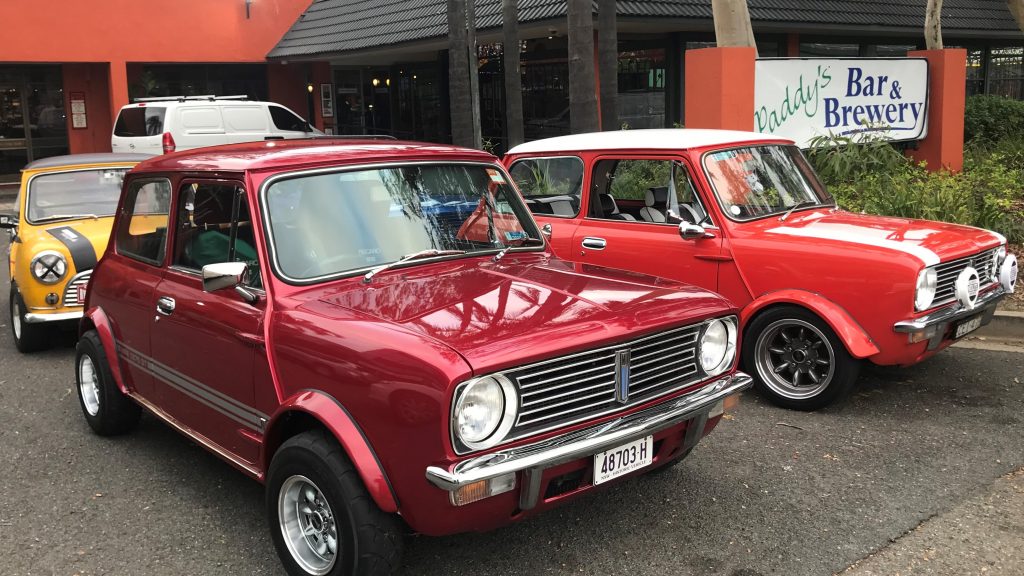 Paddy's Brewery
268 Parramatta Road, Flemington
We meet on the Second Wednesday of each Month at 7:30pm for a light meal and the people who attend then decide on the destination for a short cruise and photo opportunity.
There is plenty of parking available within view of the bistro courtyard.
Keep up to date via the website www.sydneyMinis.com or Facebook page
---
Last Sunday of the Month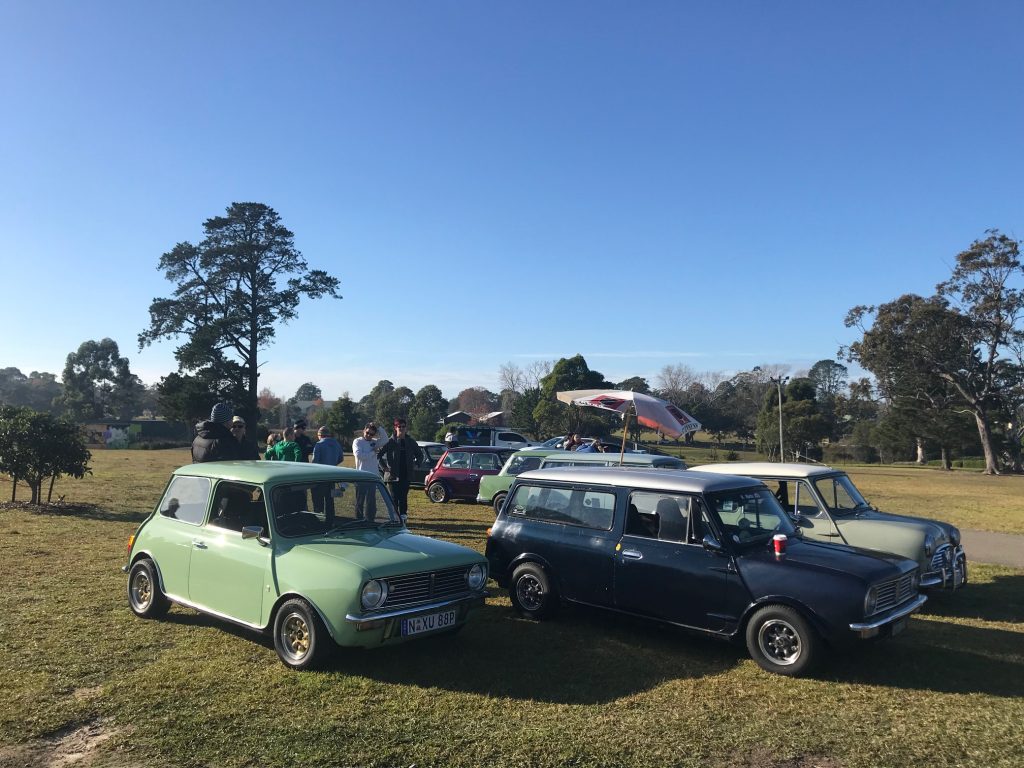 Minis on the Coast – Monthly cruises
Minis on The Coast is a social car group for Mini owners and Mini fans based on the NSW Central Coast.
The group meets on the last Sunday of each month at Cars and Coffee Kariong NSW Central Coast. 9am to 12 noon
KEEP AN EYE ON THEIR FACEBOOK PAGE FOR UPDATES
Due to the last Sunday of every month Cars and Coffee Kariong, Central Coast events being cancelled until further notice.
Minis on the Coast are now organising events on an ad hoc basis so please refer to their Facebook page "Minis on the Coast" for all the latest events and updates
Contact David Hemsley 0403 913 840
Sunday 29th November 2020
Newcastle Foreshore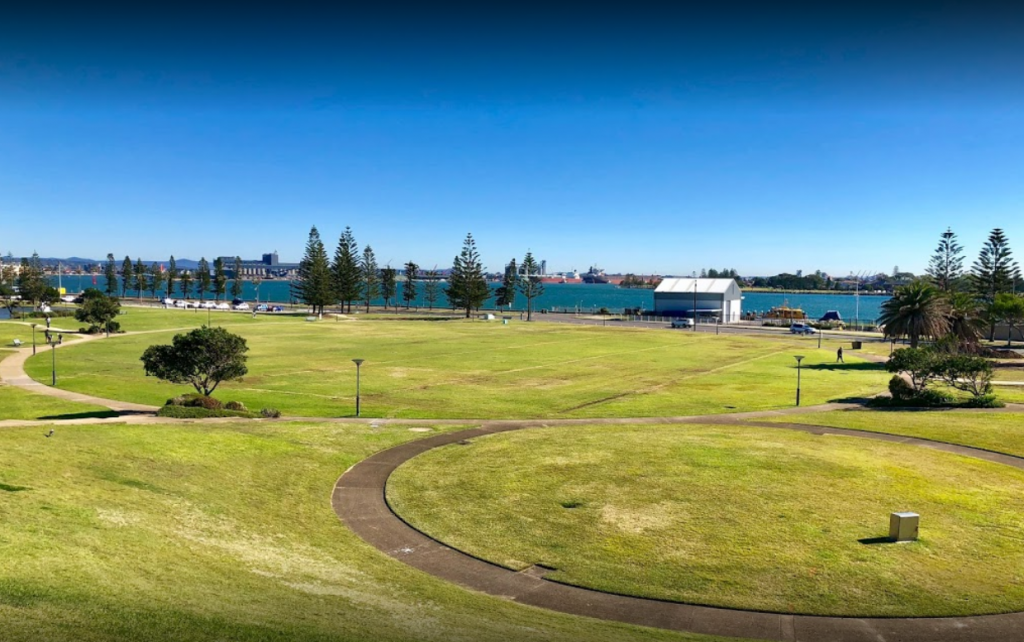 In lieu of our usual Central Coast Cars and Coffee Sunday monthly meet, Minis on the Coast will be driving to Newcastle.
Starting at Worthington Mini Kariong 9.00 am sharp we will be heading North via Swansea and Belmont to the Newcastle Foreshore.
We will have an early Lunch or brunch in the Harbourside Park area.
All welcome.
Regards
Peter Yates aka (Floyd T Jenson)
For more details call David on 0403 913 840
All Mini owners and fans of Minis are welcome to attend any event. Event details are found on our web page or facebook page.
Mt Penang Event Park, off Kangoo Road, Kariong, Behind Worthingtons BMW MINI
From there we will decide on further Mini run destination
For more details call David on 0403 913 840
Minis on the Coast mid week meet up
Events have recommenced from 10th June 2020
Minis on the Coast are meeting up on the third Wednesday of the month from 6pm at Eat St Cafe on the Gosford waterfront. Eat and drink and talk about all things mini.
To check the latest event details for Minis on the Coast please click Here.
https://minisonthecoast.com.au/
Meet each month at the Central Coast Cars and Coffee Event (except December)
---
1st Sunday of the month
Auto Brunch St Ives showground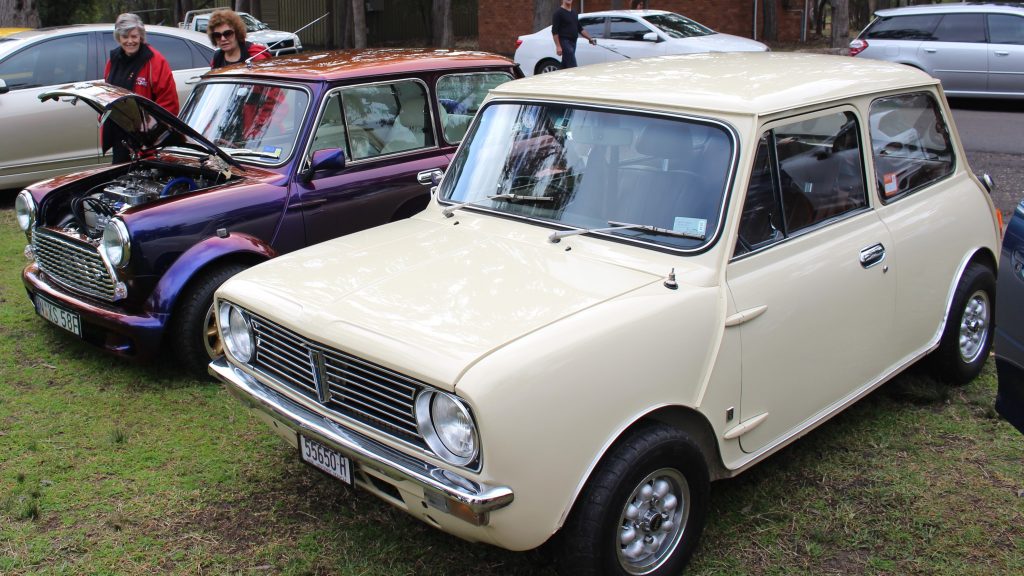 Held at the picturesque St Ives Showgrounds, Mona Vale road,
Auto Brunch is resuming on Sunday 4th October
Updates are on their Facebook page, Auto Brunch NSSCC
For further information and update please contact the North Shore Sporting Car Club

---
Cruise & Dine Night
Second Saturday of each Month –
Hungry Jacks Sylvania
Cnr. Box Rd and Port Hacking Road
A casual meet & greet for hot rod & custom car enthusiasts, from 5:30pm.
Please note that all convoys may not be published in the Clubs East West magazine and if you would like to participate please refer to updates on our web page www.miniclub.com.au or our face book page to get the latest convoy details.
It is important to check for additional events or updated details on our web page or contact the event organiser prior to attending.
All events published on this website or Facebook page are eligible for Mini Car Club historic or modified club plated cars to attend without requiring and entry in your logbook..
Please ensure you have a copy of the event details with you in the car.