This page includes groups of mini enthusiast who are affiliated with the Mini  Club of NSW. The groups usually contain members of the Mini Car club and includes groups outside the greater city of Sydney area
If you are attending with your club plate vehicle please print out the invite or event details and keep in your car for the journey to and from the event. Entry to these events is the responsibility of the individual member to arrange contact with the organiser.
The Mini Car Club of NSW does not accept any responsibility for errors shown herein due to dates and venues changing without the club being notified. Please always confirm the event with the organising club or group.
Photos and articles can not be shared without the permission of the MCC NSW.
---
Sydney Minis Monthly Meet Up!
Second Wednesday of each Month (SWOM)
Events have recommenced in October 2021
Paddys Brewery
268 Parramatta Road, Flemington
We meet on the Second Wednesday of each Month (SWOM) at 7:30pm for a great pub meal and lots of talk about minis then the people who attend decide on the destination for a cruise somewhere around Sydney with a photo opportunity.
Plenty of parking available within view of the bistro courtyard.
Always check the websites www.sydneyminis.com or Sydney Minis Facebook in case there are any changes.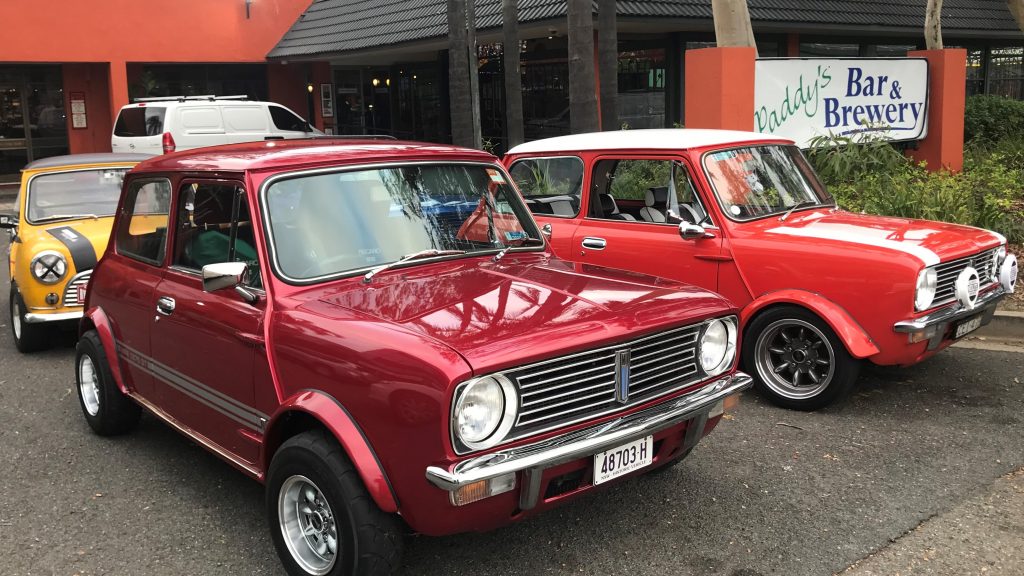 Minis in the Gong Runs
Please note that all Minis in the Gong events are now on Mini Car Club Gus Staunton Points.
If you own a Mini or a Mini Variant, or a BMW MINI you will be more than welcome to accompany any of our events.
You don't have to be in the Gong to join in. We regularly see ACT, Sydney & Southern Highlands cars. There are no membership or joining fees as MITG is this website, and that is all it is.
Start: Key Batteries, Crn Mt Keira Rd & Abercrombie St
Please always check the EVENTS section of the Minis in the Gong website to confirm the details or email info@minisinthegong.com.au if you have any questions.
For more information and to find out details of the next event  www.minisinthegong.com.au

2021 Calendar of events 
November      21st "B" Run
Nat Pk, Darks Forest
May be cancelled due to Covid
Sunday November 22nd "B" Run
Meeting at Key Battery Service Pty Ltd., 39-41 Mount Keira Rd, West Wollongong NSW 2500, Australia
The idea behind this run is we will be driving though B towns, with a stop for lunch.
8:30 AM - Meet at Key Batteries, Cnr of Abercrombie St and Mt Keira Rd, West Wollongong.
9:00 AM - Depart from Key Batteries
9:20 AM - Pickup point near the school on Tongarra Rd, Albion Park.
It's the "B" run because we travel through many towns and places starting with B.
After a run up Macquarie Pass we will take a break at Burrawang General Store Cafe at around 10am. Then back through Robertson and Kangaloon toward Bowral. 
Though Bowral to Berrima, Then south and across to Sutton Forrest Inn for a Pub Lunch. 
After lunch there is the option to head home along the expressway or continue back toward the 'Gong through Mossvale, Fitzroy Falls, Barron Grounds and back toward Albion Park.
(Mini Car Club of NSW club plated cars can attend these events)
IMPORTANT: Due to a variety of circumstances e.g. poor weather, road closures, time, lack of numbers or vehicle breakdowns, we may need to change or cancel a planned route or meeting point at the last minute. On these occasions we will try to post in the forum and/or on Facebook, however this is not always possible. Therefore if you DO intend to meet us along the route somewhere, please let us know by making a post in the General Forum or on Facebook. This way we can try and let you know if there is a last minute change to plans 
www.minisinthegong.com.au
Mini on the Coast monthly meet
Minis on The Coast is a social car group for owners and enthusiasts of classic and new Minis based on the NSW Central Coast near Gosford.
Minis on the Coast  meet on the last Sunday of each month at "Central Coast Cars and Coffee"  8.00 AM – 11.00 AM (except December) All Mini owners and fans of Minis are welcome to attend.
Please note: Coffee and Cars at Kariong is postponed until further notice
All events will be advertised on the Minis on the Coast Facebook page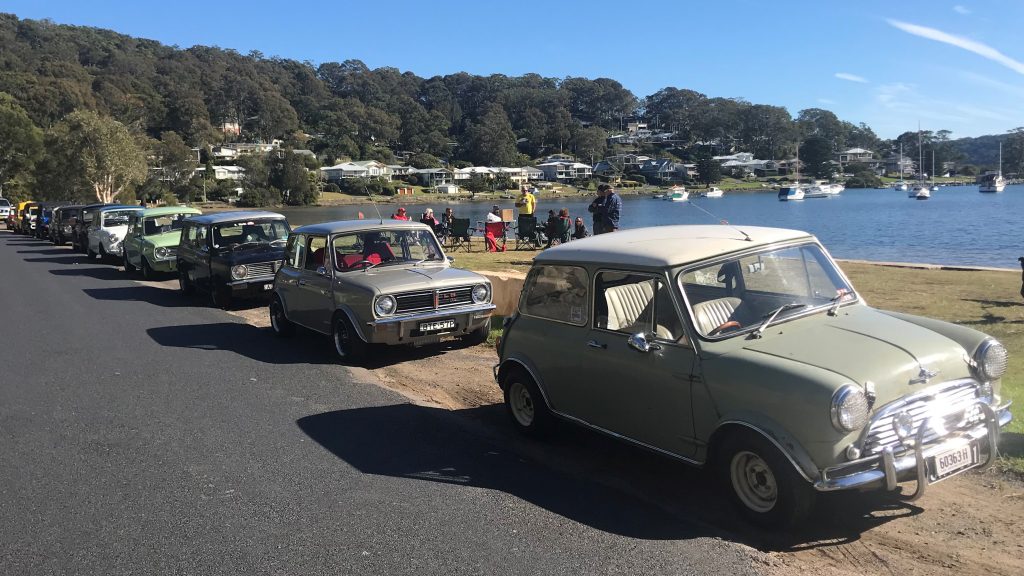 Location: Mt Penang Event Park, off Kangoo Road, Kariong, Behind Worthingtons BMW MINI
From there we will decide on further Mini run destination
To check the latest event details for Minis on the Coast please check out there Facebook page Minis on the Coast
Or call David Hemsley on 0403 913 840
Sunday 31st October 2021
Berowra Ferry, Galston Gorge run.
Leaving Worthingtons at 9am. Let's go through Berowra Waters ferry via Old Road and the up through Galston Gorge. Stop at Galstone for a coffee.
Event route: Google Map link
For updates please refer to the "Minis on the Coast" Facebook group
Or call David Hemsley on 0403 913 840
Minis on the Coast - Mid week meet up
TWOM meet up at The Rusty Udder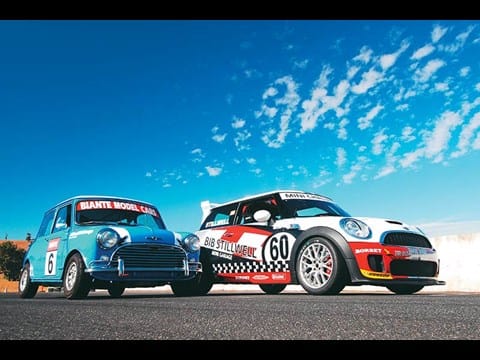 WEDNESDAY, NOVEMBER 17, 2021 AT 6:30 PM
TWOM meet up at The Rusty Udder
Wyong Milk Factory Tavern
Third Wednesday of the Month meet up. Dinner and drinks.
Contact David Hemsley on 0403 913 840
Details at Minis on the Coast Facebook page
Please note that all convoys may not be published in the Clubs East West magazine and if you would like to participate please refer to updates on our web page www.miniclub.com.au or our face book page to get the latest convoy details. All events published on this website or Facebook page are eligible for Mini Car Club historic or modified club plated cars to attend without requiring and entry in your logbook.. Please ensure you have a copy of the event details with you in the car.