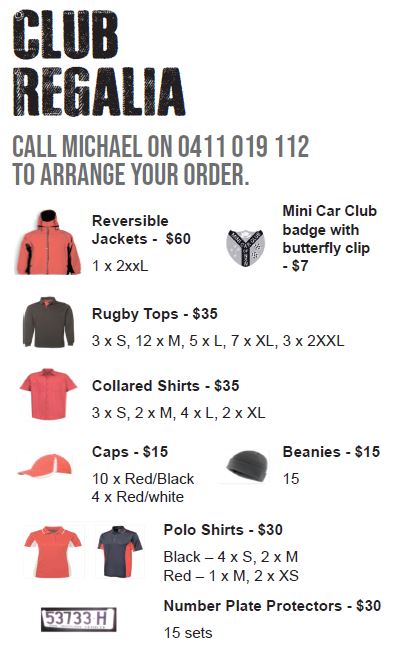 At present the Merchandise Officers position is vacant.
This is the perfect opportunity for someone to join the committee and contribute to the club.
All information about the merchandise is available, suppliers, prices quantities etc. etc.
I will be acting in a Care Taker roll for the Merchandise until such times as the position is filled.
This means that if you require something from the Merchandise Shop you can call me on 0411 019 112 and I will be happy to bring it along to the next event or post to you (at your expense).
At the moment there is limited stock of some items but there is still a great assortment available so please do not hesitate to contact me. I am also building a list of people who request out of stock items and the club will place an order once a minimum order amount has been reached.
For further information please contact Michael ph 0411 019 112
Or send an email with your request to webmaster@miniclub.com.au
Mini Car Club of NSW, Po Box 164 Mortdale NSW 2223