At the moment there is limited stock of some items but there is still a great assortment available so please do not hesitate to contact Meaghan.
She is building a list of people who request out of stock items and the club will place an order once a minimum order amount has been reached.
For further information please contact Meaghan or James Lucas 0414 367 393
Or send an email with your request to merchandise@miniclub.com.au
Mini Car Club of NSW, Po Box 164 Mortdale NSW 2223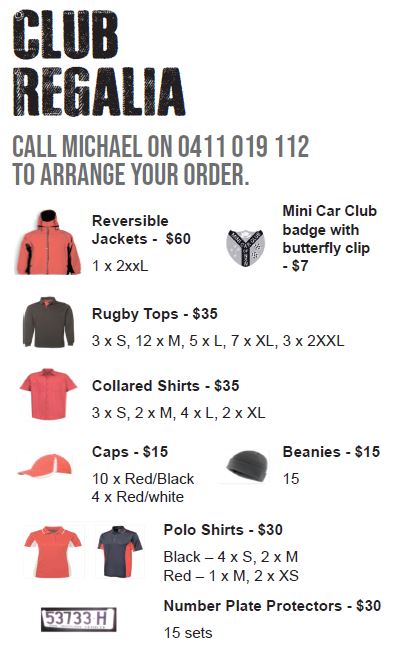 MINIS DOWNUNDER 2021
Exclusive Merchandise >> Order Form (To be developed)
We are still in the process of arranging for designs and quotes
Watch this space for further details...
MDU 2021 Polo Top   Price range $40-$45
MDU T-shirt                Price range $20-$25
MDU 2021 Cap.         Price range $15-$20
MDU Key Fob.           Price range $10-$15
MDU Hat pin.             Price range $10-$15
MDU sticker.               Price from $1 each
MDU 2021 Exclusive Oil Drip tray.  Price  $15
High-Viz   vest.           Price $5