MDU2021 March 25th 2021 Update
Please note the event has now been moved to Sunday 1st August 2021
Entries for Minis DownUnder 2021 are continuing at a steady pace, and we are almost full inside the pavilion with space for around 30 more cars.  We are looking for more Mokes and New MINIs to join us, so if you know someone thinking about joining us, then please give them some gentle encouragement before it's too late. And note our early bird price has now been extended to 1st May.
We were contacted by Angela from Nesuto apartments, across the road from Rosehill Gardens and they are offering a special deal for apartment rooms with breakfast and free parking. We visited the apartments and were given a tour by Angela and her assistant.  We will make this location our home for Minis DownUnder 2021 so give Angela a call for a great deal. We also discussed the option for Saturday night dinner, but will remain with the Bowling Club, as this venue is larger. 
The latest Accommodation details are on our Minis DownUnder 2021 website page.
Sponsor update.  I am still discussing with one of Sydney's leading Mini Garages to be a major sponsor.  They have approval from BMW Mini to be involved with our show so I hope they will be able to confirm in the near future.
I had a phone call from Josh at Mini Imports in Melbourne, and he is very interested in coming to our show.  I sent him our Sponsor/Trader package details.
We now have 2 x gold sponsors, 2 x silver, 1 x bronze and a number of other businesses are still very interested to join us on the day or sponsor the event. 
I am waiting for further details on what package and expectations are from the following who have shown interest in our event.  Modern Classic Cars in association with Jay Lenos Garage, Old Auto Rubber, Vintage Wiring Harness, All Car Carpets, SU Midel, Nulon.  Mini King is interested in a swap display.
We have been discussing a number of options for event T-shirts and investigating a banner to hang on the Rosehill Gardens fence and also event stickers. 
I have had our promotional poster updated and will have a number printed which I will take around to our sponsors for them to hang in their office and help to promote our event.
I received a proposal from Fletch for him to be at our event on the Sunday to film an episode of his popular motoring program, plus pre-event promotion.  The Committee approved this at the February meeting, and I have advised Fletch accordingly.
We will have a number of people staying at Parramatta on the Saturday night, so the proposed dinner at the Bowling Club will proceed.  I will ask for RSVP to this dinner and remind all entrants and start collecting names, even if you have not indicated on the entry form.
I have discussed with a few Mini enthusiasts their help in encouraging a number of Mini celebrities to come along to our event.  I will contact Bob Holden and a few other ex-racers have been approached and are interested.  I will produce a VIP entry pass for "special guests´ for free entry. So if you know a Mini celebrity who would like to come along then please le me know.
We have started to compile an event program and are looking for entrants to provide a short story and a few photos about their Mini, plus any interesting Mini historical articles which could be included.
I will also send out a Show and Shine entry form in the next few weeks.
Start polishing!
Michael Benton
Event Director
Minis DownUnder 2021

MDU2021 December Update
Since our last update, planning for Minis DownUnder 2021 has continued. Our subcommittee members are involved in discussions with Mini related businesses about their agreed or potential involvement in our event. At this stage we have 3 Gold, 2 Silver and a few other interested businesses interested. If you know any business either mini related or selling merchandise who would like to be involved, then please don't hesitate to let us know.
I have been in contact with the editor of Mini World magazine and provided event details including a few photos for an article in the January 2021 edition of the magazine so keep an eye out for that. The planning sub-committee met at Rosehill Gardens on November 9th to do a photo shoot for the Mini World and other promotional articles. Some of those photos are throughout the December magazine. We are continuing discussions with a MINI Garage for them to be a major sponsor and display a number of their MINIs on the day. I had a planning meeting with the Rosehill Gardens Event's manager where we discussed the finer details of our proposed layout and logistics to get all of our Minis in and out in a timely manner on the weekend of the event. He also confirmed a few items re the location and requirements of the cars. Please note: We are not required to have locking fuel caps but must remove the ignition keys and leave with event management.
Entries are arriving at a steady pace with a variety of some great looking Minis, Classic and New. Following a request, we have changed the early entry cut off from Jan 1 to Feb 1. We are also taking entries from Mini related cars, Morris 1100, Morris Minor. Entry details and an application form are available inside the December magazine and an online version with payment links is on this website.
We are investigating an option for dinner at a local club on Saturday night and I have now posted details of local accommodation options on our website.
Continuing to be concerned about Covid-19 we still have everything crossed so that at least suppression of Covid-19 continues into early next year before the vaccine arrives.
Michael Benton
MDU 2021 Director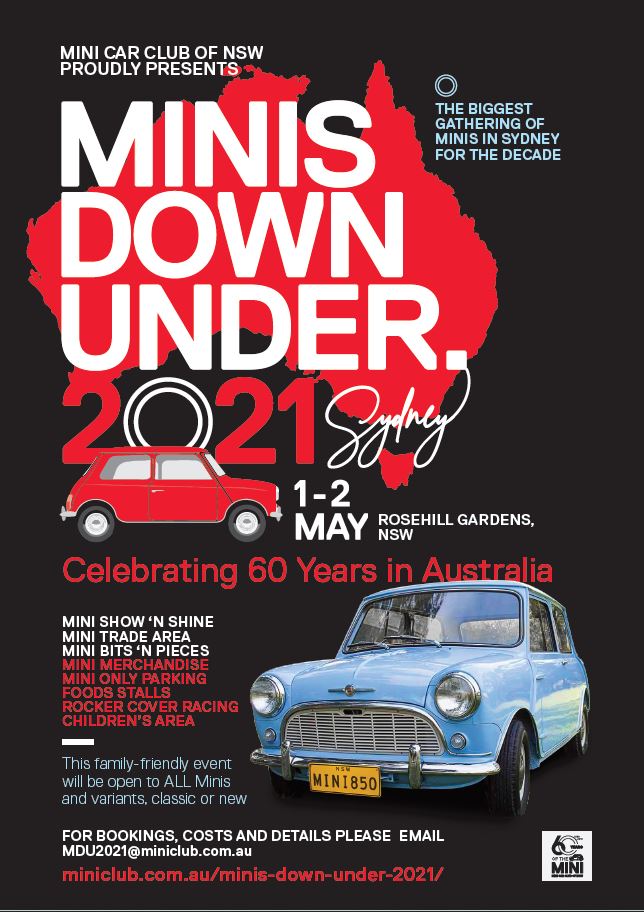 The Mini Car Club of NSW is excited to announce we will be staging Minis DownUnder 2021 Show 'n Shine at Rosehill Gardens on Sunday 1st August 2021.
This event is to celebrate the 60th anniversary of the Minis' manufacture in Sydney and the release of the Australian built Morris 850 in March 1961.
Minis DownUnder 2021 Show 'n Shine is planned to be the biggest gathering of Minis in Sydney for the decade. It is open to ALL Minis and variants, classic or new.
They do not need to be in pristine condition, although they must be in a clean and safe condition. Entry to be judged is optional.
Mini Car Clubs and mini owners from all states and territories are invited to enter and display their Minis and MINIs. Membership of our club is not required.
All entrants must pre book and there are discounted entry fees for early bird entries prior to 1st May 2021.  
Members $40 (Normal entry fee $50)
Non-members $60 (Normal entry fee $70)
The general public are invited with an admission charge of $10 per Adult with children under 16 free.
Pricing for sponsors and traders is available on request
The family-friendly event will also include: 
Mini Trade area: Mini Specialists offering parts and services.
Mini Bits 'n Pieces: An area for Mini enthusiasts to display Mini bits for private sale.
Mini Merchandise
Mini only parking: A priority parking area in the car park for Minis only. Once the Grand Pavilion is fully booked, interested participants or spectators with Minis will be invited to park in this area.
Food stalls and a break out area for entrants and visitors.
Children's entertainment area.
For more information please email: MDU2021@miniclub.com.au
Michael Benton
Event Director
Minis DownUnder 2021
Mini Car Club of NSW
Link to page Minis DownUnder 2021