MDU2021 December Update
Since our last update, planning for Minis DownUnder 2021 has continued. Our subcommittee members are involved in discussions with Mini related businesses about their agreed or potential involvement in our event. At this stage we have 3 Gold, 2 Silver and a few other interested businesses interested. If you know any business either mini related or selling merchandise who would like to be involved, then please don't hesitate to let us know.
I have been in contact with the editor of Mini World magazine and provided event details including a few photos for an article in the January 2021 edition of the magazine so keep an eye out for that. The planning sub-committee met at Rosehill Gardens on November 9th to do a photo shoot for the Mini World and other promotional articles. Some of those photos are throughout the December magazine. We are continuing discussions with a MINI Garage for them to be a major sponsor and display a number of their MINIs on the day. I had a planning meeting with the Rosehill Gardens Event's manager where we discussed the finer details of our proposed layout and logistics to get all of our Minis in and out in a timely manner on the weekend of the event. He also confirmed a few items re the location and requirements of the cars. Please note: We are not required to have locking fuel caps but must remove the ignition keys and leave with event management.
Entries are arriving at a steady pace with a variety of some great looking Minis, Classic and New. Following a request, we have changed the early entry cut off from Jan 1 to Feb 1. We are also taking entries from Mini related cars, Morris 1100, Morris Minor. Entry details and an application form are available inside the December magazine and an online version with payment links is on this website.
We are investigating an option for dinner at a local club on Saturday night and I have now posted details of local accommodation options on our website.
Continuing to be concerned about Covid-19 we still have everything crossed so that at least suppression of Covid-19 continues into early next year before the vaccine arrives.
Michael Benton
MDU 2021 Director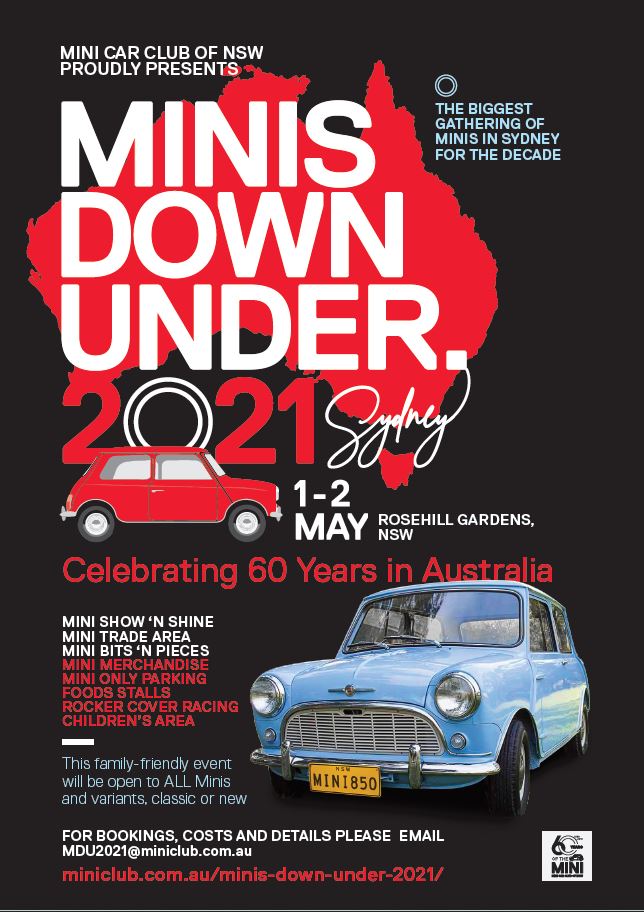 The Mini Car Club of NSW is excited to announce we will be staging Minis DownUnder 2021 Show 'n Shine at Rosehill Gardens on Sunday 2nd May 2021.
This event is to celebrate the 60th anniversary of the Minis' manufacture in Sydney and the release of the Australian built Morris 850 in March 1961.
Minis DownUnder 2021 Show 'n Shine is planned to be the biggest gathering of Minis in Sydney for the decade. It is open to ALL Minis and variants, classic or new.
They do not need to be in pristine condition, although they must be in a clean and safe condition. Entry to be judged is optional.
Mini Car Clubs and mini owners from all states and territories are invited to enter and display their Minis and MINIs. Membership of our club is not required.
All entrants must pre book and there are discounted entry fees for early bird entries prior to 1st February 2021.  
Members $40 (Normal entry fee $50)
Non-members $60 (Normal entry fee $70)
The general public are invited with an admission charge of $10 per Adult with children under 16 free.
Pricing for sponsors and traders is available on request
The family-friendly event will also include: 
Mini Trade area: Mini Specialists offering parts and services.
Mini Bits 'n Pieces: An area for Mini enthusiasts to display Mini bits for private sale.
Mini Merchandise
Mini only parking: A priority parking area in the car park for Minis only. Once the Grand Pavilion is fully booked, interested participants or spectators with Minis will be invited to park in this area.
Food stalls and a break out area for entrants and visitors.
Rocker Cover racing
Children's entertainment area.
For more information please email: MDU2021@miniclub.com.au
Michael Benton
Event Director
Minis DownUnder 2021
Mini Car Club of NSW
Link to page Minis DownUnder 2021