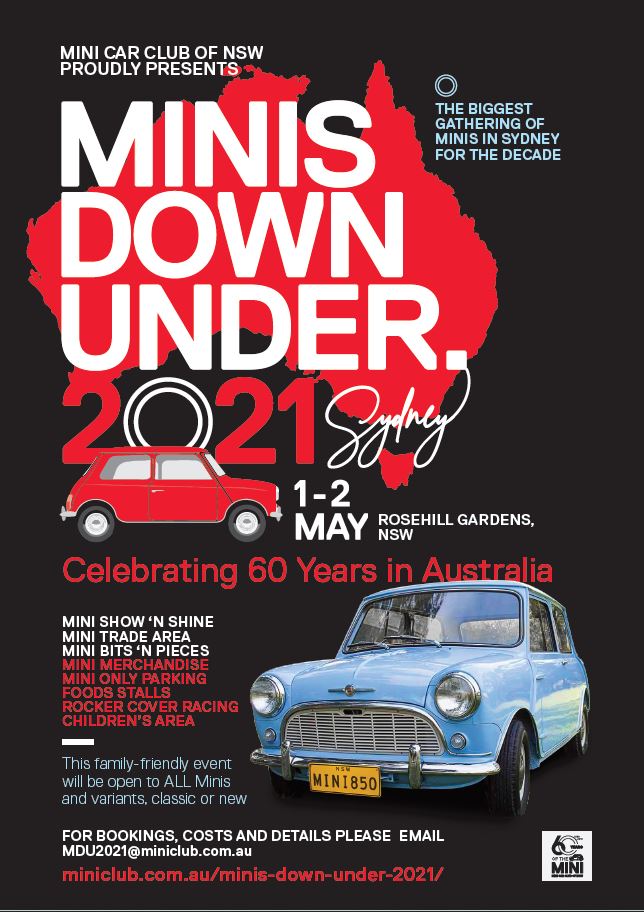 The Mini Car Club of NSW is excited to announce we will be staging Minis DownUnder 2021 Show 'n Shine at Rosehill Gardens on Sunday 2nd May 2021.
This event is to celebrate the 60th anniversary of the Minis' manufacture in Sydney and the release of the Australian built Morris 850 in March 1961.
Minis DownUnder 2021 Show 'n Shine is planned to be the biggest gathering of Minis in Sydney for the decade. It is open to ALL Minis and variants, classic or new.
They do not need to be in pristine condition, although they must be in a clean and safe condition. Entry to be judged is optional.
Mini Car Clubs and mini owners from all states and territories are invited to enter and display their Minis and MINIs. Membership of our club is not required.
All entrants must pre book and there are discounted entry fees for early bird entries prior to 1st Jan 2021.  
Members $40 (Normal entry fee $50)
Non-members $60 (Normal entry fee $70)
The general public are invited with an admission charge of $10 per Adult with children under 16 free.
Pricing for sponsors and traders is available on request
The family-friendly event will also include: 
Mini Trade area: Mini Specialists offering parts and services.
Mini Bits 'n Pieces: An area for Mini enthusiasts to display Mini bits for private sale.
Mini Merchandise
Mini only parking: A priority parking area in the car park for Minis only. Once the Grand Pavilion is fully booked, interested participants or spectators with Minis will be invited to park in this area.
Food stalls and a break out area for entrants and visitors.
Rocker Cover racing
Children's entertainment area.
For more information please email: MDU2021@miniclub.com.au
Michael Benton
Event Director
Minis DownUnder 2021
Mini Car Club of NSW
Link to page Minis DownUnder 2021